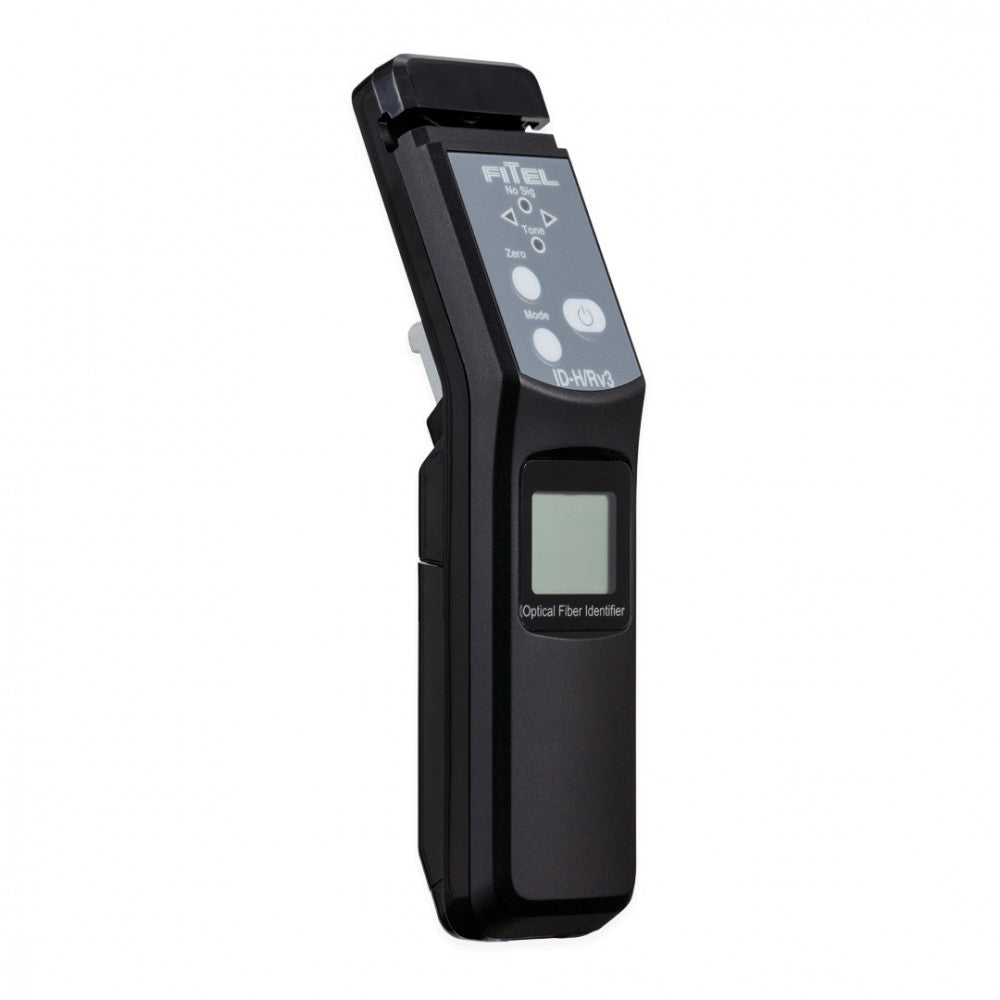 ID-H3 Optical Fibre Identifier
Features
Wide dynamic range
Super low insertion loss
Universal chuck
Bright LCD screen
Detects signal without traffic disruption
Detects tone and traffic signals
Direction LED signals for clear identification
Super lightweight industrial plastic
What's new in the FITEL ID-H/R v3?
Improved traffic direction recognition, even in brightly lit environments with 10 times greater sensitivity
Enhanced sensitivity for the light receiving adjustment function
The brighter LCD now displays the communication light intensity in the optical fiber
G657.A2 optical fiber (ITU R7.5) identification
Overview
The FITEL ID-H/R is a rugged, user-friendly tool which identifies optical fibers by detecting the optical signals passing through the fiber utilising local detection technology that detects the signal without disrupting traffic.
Includes offset function for light level with offset adjustments from 0 to 50dB in 1dB increments.
Specifications
Applicable Fibre
Up to SM 12-fibre ribbon
Up to 3mm cordage (built-in only SM 250um single fibre)
SM 900um tight buffer (Reference Value)
SM 250um single fibre
Applicable Wavelength
900 ~ 1700nm
Frequency for Tone Signal
270Hz and 1kHz and 2kHz (Duty ratio 50±10% ) Modulation Light
No Modulation Light
Communication Light that Continued
Measurement Range of Optical Power*1
0 ~ 80dBm
Max. Level of Insertion Loss (Typical)
1310nm
0.1dB
0.5dB
1550nm
1.0dB
2.0dB
1650nm
2.5dB
3.0dB
Average Min. Detection Level*2

 

(Typical)
1310nm
-40dBm
-30dBm
-15dBm
1550nm
-50dBm
-40dBm
1650nm
Indication for Traffic Signal or Tone Signal
[Traffic Signal]*3
Direction LED illuminates + Intermittent buzzer sound + Displayed on Optical Power measurement range by LCD
[Tone Signal]
Direction LED illuminates + Tone LED illuminates + Continuous buzzer sound + Displayed an Optical Power measurement range by LCD + Displayed Frequency by LCD
Operating Time
8 hours (using alkaline battery)
Dimensions
40 x 65 x 153mm
Weight
160g (including battery)
1. Duty ratio 50%
2. This specification is based on our optical fibre with our test method.

3. DO NOT disconnect or rewire based on on the traffic signal detection. Make sure to launch the tone signal before disconnecting or rewiring the fibre.